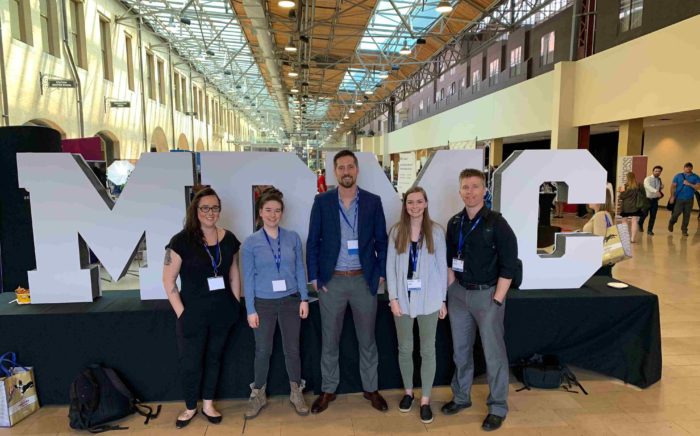 In the constantly changing marketing world, it's important for Beanstalk to stay up to date for our customers.
Keeping up to date with the latest digital marketing trends can be overwhelming. With so many tools at your disposal and content being created at a seemingly impossible pace, staying relevant and fresh can seem like an impossible challenge.
We had the opportunity to go to the Midwest Digital Marketing Conference this year and attend a variety of talks and panels to learn about the latest trends in the digital marketing world. Here are our top takeaways from MDMC 2019:
1. Think about SEO from a mobile user's perspective.
Two of the most important evolving trends in SEO are voice searches and mobile responsivity.
Voice Searches
It is estimated that by 2020, over 20% of internet searches will be by voice. What does that mean for SEO? Well, it means a return to Ask Jeeves-style long-tail keyword searches, as more people turn to their phones to ask,  "Hey Siri, what's a good Thai restaurant near me?" instead of simply typing "thai restaurant" into their computer. As of yet, long-tail keyword searches are relatively untapped in terms of SEO and can present good opportunities for keywords to target.
Site Speed and Mobile Responsiveness
As people become more reliant on mobile versions of websites, SEO has become more mobile-focused. From a data strategist perspective, site speed and mobile usability are two of the most important aspects to optimize when it comes to SEO. Slowness can irritate website visitors more quickly than anything else, so it's important to focus energy on practices that will make your site as fast as possible. Checking your site speed is a top priority when we do a site audit for your business because we want to ensure that your site is delivering optimal results across all platforms.
2. Start at the bottom of the marketing funnel with Google Ads.
It's no secret that Google knows a lot about our personal lives. Google can tell who we call, if we speed while we drive, and even things about us that we don't know ourselves. Google even knew one woman was pregnant before she did.
Most marketers learn about a traditional marketing funnel that starts with awareness and funnels a consumer through stages of interest, consideration, intent, and evaluation before they finally make a purchase. With Google Ads, it's possible to start at the bottom of the funnel, right when a consumer wants to make a purchase, and we know this based on the keywords they use in their search. For example, we can tell that if a customer trying to sell their house uses the word "home" when they search as opposed to "house" they are more emotionally attached to their house.
Based on the keywords consumers use in their searches, we can tell what section of the marketing funnel are their searches and tailor Google Ads to market to more specific groups of people wherever they may be on the marketing funnel.
3. Take advantage of the new Facebook algorithm.
Recently, Facebook has tried to support more organic content, and there are a few marketing tactics that can bury your posts in a feed or make them disappear from people's news feeds altogether. Any posts that elicit unnatural engagement from followers can knock the quality of your content so it never even reaches your target audience. There are three things that the Facebook algorithm flags most often:
Withholding information as clickbait and making viewers click a link to get an important aspect of a story
Using sensationalized language like "You will NEVER believe this happened" to try and engage audience members
Baiting members to engage by making them share, tag friends, comment, or react. Instead of using baiting language like "give this post a like if you have a dog, a heart if you have a cat" say something that encourages more organic interactions like "do you have a cute pet?"
You want to encourage a relationship with your Facebook followers that comes naturally. By encouraging organic posting and interacting with your audience in a natural, positive way, you can boost your posts on the Facebook news feed.
4. Create a snapshot of your performance with Google Data Studio.
All of these trends in digital marketing are great. To know if they're paying off, it's important to analyze data to see if the goals of your marketing campaign are being achieved. Google Data Studio can organize several performance metrics into one space to create a performance dashboard that makes it easy to compare data to see what's working and what's not. Google Data Studio allows us to provide analytics that are more accessible, provide more information, and dynamically change to allow us to visualize data over any period. This is a tool that will allow us to make more informed marketing decisions in the future.
5. Use location services to target a narrower audience.
Technology has made targeting a custom audience easier than ever before. In the past, ads were created for a very general audience, because they were dependant upon a person being in the right place at the right time to see it – like a television ad aired during the evening news. Now with location services available, it's possible to target very specific individuals based on their location, to market to as narrow and relevant a group as possible.
Geofencing targets people who are in a particular area at the current moment. For example, people who search "tacos near me" within a few miles of a taco shop.
Geotargeting focuses on individuals who went to a particular location. For example, marketing a particular album to people who went to a concert of the same genre.
Geoconquesting targets people who are at a competitor's location. For example, marketing your local taco shop to people who visit a chain taco place nearby.
Location-based marketing often runs off of opted-in GPS location data received by smartphones. These services allow you to zero on a specific target, and they are changing the way we market. Instead of creating content for a wide audience and seeing what sticks, we can now market to a very narrow audience and deliver content to them when, and where, they are most receptive to it.
6. Provide convenience by intersecting the physical and digital worlds.
One of the biggest trends in digital marketing is the crossover between the physical and digital worlds. For example, if in a grocery store you tend to purchase food from the outer edges of the store, you might find yourself receiving customized notifications promoting sales of those items which you tend toward most often.
While this intersection of worlds can provide convenience for customers, from a marketing perspective, it's important to pay attention to the things that are frustrating customers and to meet them at those points of friction in their everyday lives to provide solutions for their most current problems.
In the process of meeting customers' needs and delivering assistance to them on a range of devices, it's important to make sure that all of your platforms – websites, mobile sites, and apps – are cohesive and easy to navigate and use.
7. Figure out the best new marketing technology for your business.
With new technology coming out every day, it can be hard to figure out what programs are best for your business needs. And even if you have marketing technology that you prefer, it can change at the drop of a hat. With technology evolving so quickly, it can be overwhelming to try and stay on top of everything. At MDMC, we learned some strategies for staying ahead of technology and implementing tech that will be best for your business.
It's important to remember that cool isn't a requirement for new technology. Instead, start from a place of functionality to determine what kind of technology is best to implement. Think about your company's needs for technology and desired outcomes, and consider whether a software's strategy aligns with yours before using new technology. One of the most important trends to emerge in 2019 is the beginnings of the merging of MarTech and AdTech, as people seek more streamlined solutions for business. But as with any trend, it's important to remember that no transition is ever going to happen as smoothly as you think, and you won't become an expert overnight.
8. Make the customer the hero of your story.
Content is always going to be king. Without good content, no one who happens across your website is going to be invested. One way to write quality content that is engaging and meaningful is to frame everything you write with your audience and their goals in mind. Make sure whoever is reading your content is the hero, not you.
Audience members don't care about you specifically, they care about themselves. If someone is Googling plumbing services and happens across your plumbing website, they aren't reading your content because they care about your plumbing business in particular. They're reading your content because they have a broken toilet or leaky faucet that they need to be fixed. When you write content that makes them the hero, you take on the role of a guide, leading them to success. When customers feel like the hero, they are more responsive and more likely to engage with your content in a meaningful way, instead of just breezing through it.
9. Repurpose content to deliver more customers.
Consistency is important in creating content. In today's world, there is no way you can be putting out too much content. Consistently delivering quality content that customers will find meaningful can be a challenge. We learned some tips to repurpose content so that it becomes useful in multiple ways.
One way to create more content is to start from a longer-form piece of content, like a blog post or a speech. Then pare it down into smaller, more digestible pieces of content. Tweets, pictures, and short podcasts can be consumed by customers across platforms in a variety of ways. Even if you're posting on the same topic more than once, it's unlikely most people will notice. As long as you reuse the content differently every time you post, people will stay interested.
Repurposing content and breaking it down into smaller pieces allows you to create a variety of unique content without starting from scratch every time. It allows you to articulate the same message across a variety of platforms without coming across as stale and uncompelling.
10. Craft a brand that appeals to customers' self-expressive nature.
It is important to view your brand as the collective emotional response to your product or service. A brand is a relationship between your business and the customer. Any brand promise you make should be the anchoring tenant for your business. For example, the Ritz-Carlton motto is "We are Ladies and Gentlemen serving Ladies and Gentlemen". This markets to the self-expressive benefits of their services. Today's luxuries become tomorrow's functional benefits, so it's important to connect with customers' self-expressive nature.
Consider what your brand says about the person who uses it. In the Ritz-Carlton example, the motto makes the customer a lady or gentleman. It elevates them beyond their everyday self and piques their self-expressive interest. Consider the singular thing customers get from your brand that they can't get elsewhere? That is what elevates your brand above others.
In Conclusion
MDMC 2019 connected us to digital marketing leaders in the midwest. It provided us with new strategies to implement going forward. Digital marketing is not a one size fits all solution. As the digital world evolves, there are always going to be new opportunities for marketing your product or service. To see how our team of digital marketing professionals can help your business succeed, check out what we offer!