With 2018 coming to an end, we all are gearing up to welcome 2019 with our defined goals, resolutions and budgets. While 2018 has been a year of continuous change and evolution of the digital marketing tactics, we are sure that social media marketing will be ruling the digital world in the coming year. For any organization to be successful, it is essential to have a social media presence and develop a strong marketing plan based on which new methods and opportunities can be explored. In this crowded social media landscape, our below tips on planning a realistic social media marketing budget in 2019 will help you get ahead in your game.  
Identify your Key Business Goals
The role of social media marketing is to directly establish a relationship between a business and its clients. Before creating a social media marketing budget, it is important to understand your business goals and how social media will help you achieve those goals. The marketing budget strategy should strictly focus on contributing towards the end results of your business goals.
As goals help you in reaching towards your ideal destination, set achievable and measurable goals. Once your goal is set, determine ways to reach the goal and track your efforts. Consider your previous challenges and accomplishments to make sure your upcoming campaign is free from loopholes and consists of necessary methods to be fruitful.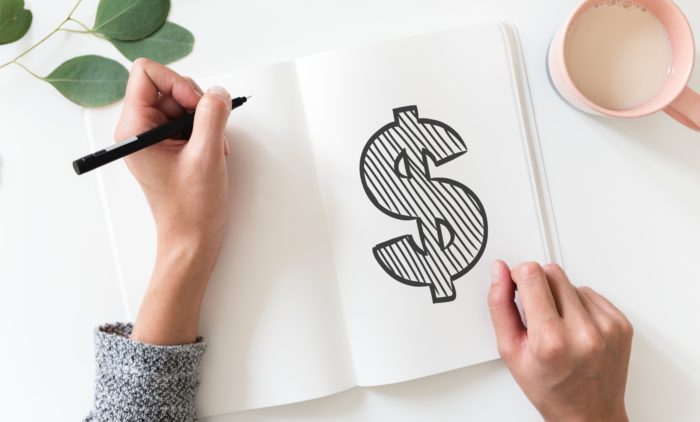 Marketing Department Salaries
Behind the successful execution of a great social media campaign lies a great team of professionals. As the collective salary of your marketing team will hold the maximum place in your budget, consider it as the first thing while planning your 2019 social media marketing budget. Define who will you need to execute your social media marketing campaigns and whether the existing team is fit to help you achieve your goals. If you decide to hire more personnel, consider the hiring and training costs as well.
Technological Costs
As social media marketing relies greatly on technology to succeed, you will need to identify the software, licenses, tools, and devices required. Although you might be already using some of these, consider whether you need to upgrade your resources. Estimate the cost of subscription charges, one-time fee, licensing fees, implementation fees, etc.
Additional Marketing Costs
Apart from the regular overheads, there might be a need for other tangible assets that you might consider to spend money in the upcoming year. These costs might range from paying for the marketing content created by freelance writers, sending your team to workshops, training or seminars, etc.
Multifaceted Social Media Campaign Costs
If you are planning to grow your business and client base through social media marketing, then you will need to consider multifaceted campaigns that can reach your prospective customers across all stages of your sales funnel. Think about the number of campaigns you will need to run in the upcoming year and set the time-frame to roll out each campaign.
Some of the popular digital marketing campaigns that will stay in 2019 consist of channels such as pay-per-click ads on different search engines like Google or Bing, sponsored social media advertising, search engine optimization, etc. When linked these digital marketing campaigns with your social media marketing, it will definitely bring efficient and more realistic results. You can get an estimate of your campaign costs by multiplying the number of campaigns by the number of channels you will consider for running throughout the new year.
Graphical Expenses
Video marketing on mobile devices is expected to be the most trending social media strategy in 2019. With a majority of people using social media accounts on a mobile phone and a number of videos trending every day on these platforms, businesses need to pay special attention to video marketing. As consumers expect good quality and flawless videos by their favorite brands, investing a high-grade professional video recording device and editing tools is likely to pay off.
Influencer Marketing Expenses
With influencers creating a buzz on a majority of social media platforms such as Instagram, Facebook, and YouTube, you must make space for influencer marketing in your 2019 budget. With the help of industry experts and influencers, you can validate your services and products and spread a powerful word about your brand. As word-of-mouth is one of the most powerful sources of advertising, the words used by influencers on their social media channels will draw more attention to your prospective buyers as compared to your words.
Creativity Expenses
One of the proven formulas of a successful social marketing campaign is to keep it creative and informative. While it might take some extra money, time and energy to give your campaigns a creative touch, believe us, these efforts will be worth investing. As creative and engaging content connects better with audiences, it easily gains organic momentum and is more likely to engage audiences through likes, comments, and shares.
Business Intelligence Expenditures
While you plan to invest a good amount of money in social media marketing campaigns, you will not come to know about the return on investment without proper analysis of your investment made and revenue collected. Whether the ultimate goal of your social media marketing is to generate revenue or attract the audience, take time to deep dive into the metrics and analyze your results. Keep some money for the right tools to measure your campaigns and optimize their effectiveness. With continuous monitoring, you can create more effective social media campaigns and cut out the unnecessary expenses from your next budget.
Plan for The Unexpected
No matter how perfect your projected budget is, there will always be some unexpected costs which might occur out of nowhere. Some of the unexpected expenditures interrupting your social media marketing budget might include, increased rates of social media campaign channels, costs associated with wear and tear of your systems, costs required to update your existing system to match the new software, departing of existing employees and recruiting a new employee. Although you cannot actually plan these unexpected expenses, keeping space for them in your budget will help you in the long run.   
Author Bio
Anna Clarke is the owner of online writing company 15 Writers. She is a successful entrepreneur with over 20 years' experience in both freelancing and academic writing industries, specializing in Business, Economics, Finance, Marketing, and Management.