Breeze Helicopters began its journey in the scenic landscapes of Miami. As a fresh business, they aimed to offer helicopter tours that would leave lasting impressions on tourists and locals alike. With picturesque views of Miami and its surroundings, they had the product. However, navigating the digital sphere was a different ballgame for them.
Breeze Helicopters was new to the industry, attempting to establish a strong digital presence in the midst of fierce competition. They had a basic website in place, but it was not optimized for SEO. Being a new entrant, their primary challenges were: Lack of understanding of the digital market. A website that was inadvertently harming their SEO due to issues with hidden javascript from the WordPress theme. Absence of a strong content strategy. An inefficient ticket purchasing software integration.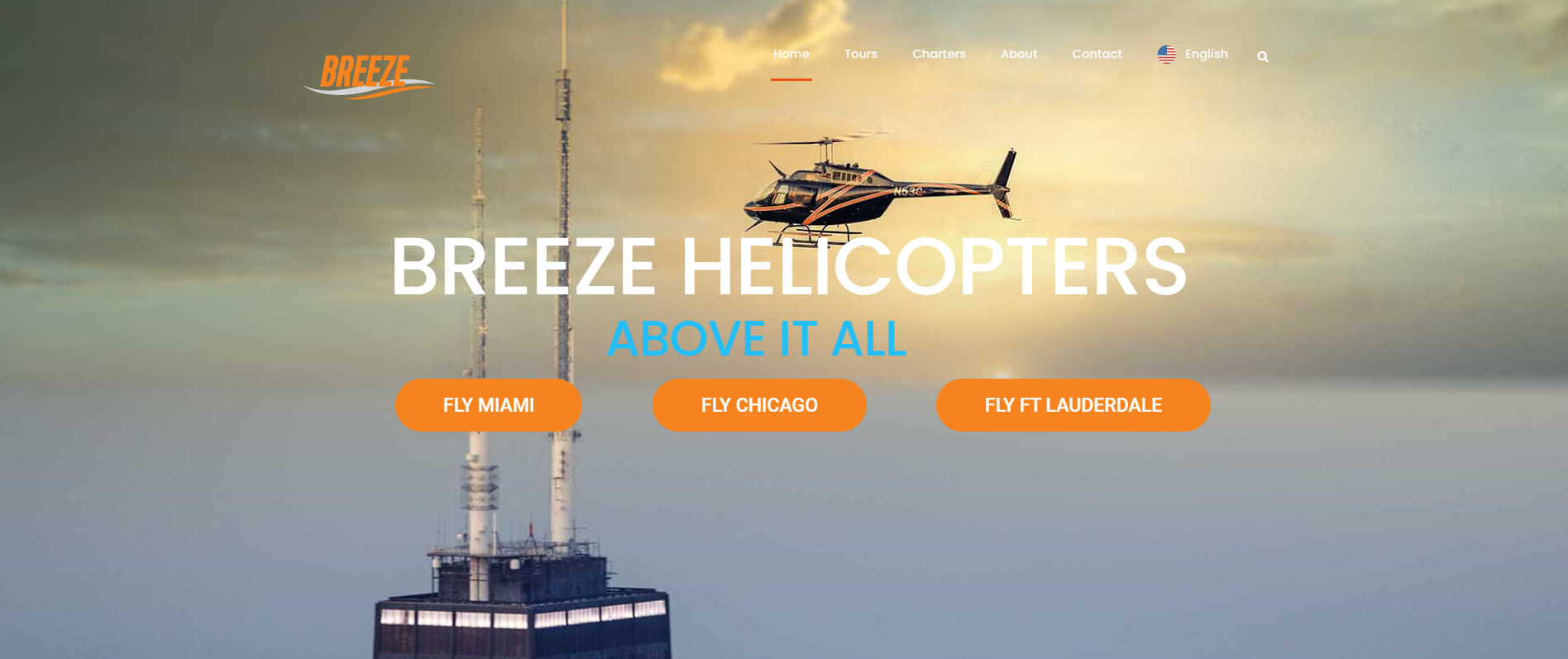 As a fledgling enterprise in the helicopter tour industry, Breeze Helicopters grappled with several impediments on their digital journey. Unacquainted with the intricate nuances of the digital market, they found themselves at a crossroads, struggling to navigate a realm dominated by established competitors. The daunting task of carving a distinct niche in a saturated market was exacerbated by their internal team's limited expertise in optimizing online marketing strategies. Their foundational challenges were multi-fold: creating a digital identity that resonated with potential clients, understanding and implementing best practices in online marketing, and developing a comprehensive approach that would holistically cover website optimization, strategic content creation, targeted advertising, and data-driven analytics.

Upon a thorough evaluation of Breeze Helicopters' existing online framework, we initiated a comprehensive Website SEO Audit, pinpointing several challenges such as hidden javascripts and metadata inconsistencies. Tackling these head-on, our team revamped the SEO components, optimizing H1 tags, eradicating obstructive scripts, and enhancing key pages with relevant, engaging content. Simultaneously, we implemented a more intuitive ticket purchasing system. Recognizing the importance of authoritative content and a robust backlink portfolio for a budding brand, we committed to producing two in-depth blog posts each month. We also orchestrated a strategy to accrue three high domain authority backlinks monthly, further bolstering their online credibility. Armed with exhaustive keyword research, our next step was to launch meticulously crafted Google Ads campaigns. This encompassed targeting both organic and paid search keywords, augmented with visually compelling Google Display ads and strategic retargeting campaigns. To ensure Breeze Helicopters remained abreast of their digital performance, we introduced custom Looker studio reports, heat map analytics, and a state-of-the-art marketing analytics package. As our successes in the Miami and Fort Lauderdale markets became evident, the logical progression was an expansion. Thus, we facilitated Breeze Helicopters' foray into the Chicago market, establishing a Google My Business listing and formulating a tailored paid advertising strategy for the region.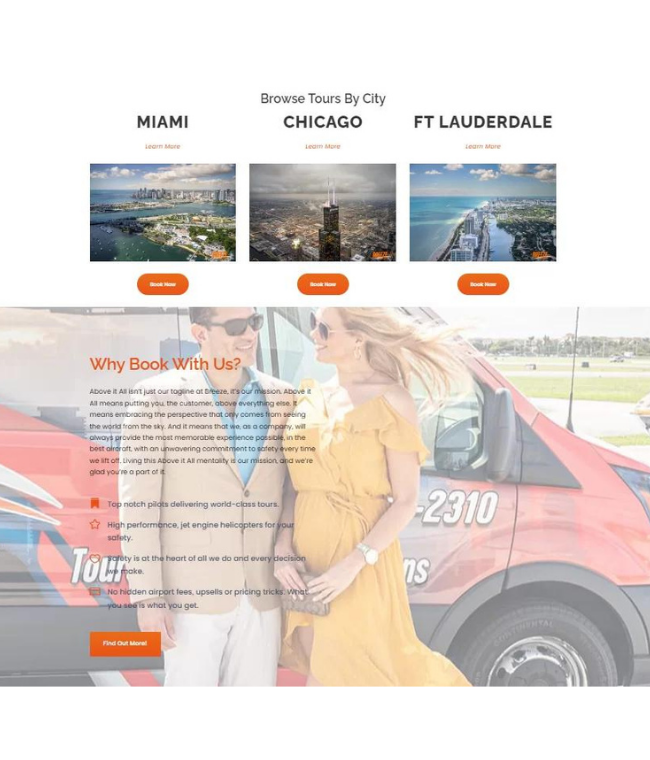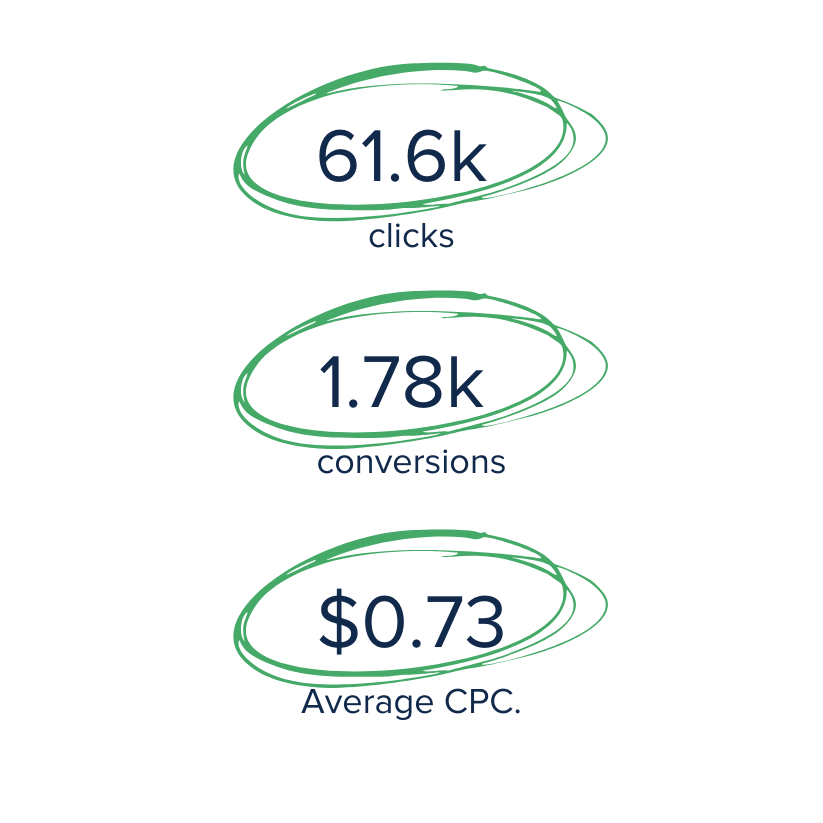 Our collaborative efforts with Breeze Helicopters yielded impressive results that bore testimony to our strategic prowess. In the domains of Miami & Fort Lauderdale's local marketing, we garnered over 19.5k clicks, achieving an impressive 562k impressions at an average cost per click (CPC) of a mere $0.67. When we broadened our horizons, targeting travelers on a national scale for the same regions, the figures were similarly commendable, amassing 24.4k clicks, 618k impressions, and maintaining a competitive average CPC of $0.65. Our foray into the Chicago market was met with enthusiasm, as our targeted local campaigns generated 7.75k clicks, raking in 568k impressions with an average CPC of $1.03. The consistency of our results across diverse markets underscored the effectiveness of our tailored digital strategies, firmly placing Breeze Helicopters on the digital map.
Couple a meticulously optimized website with strategic, results-focused digital campaigns, and watch a brand like Breeze Helicopters soar to new heights.