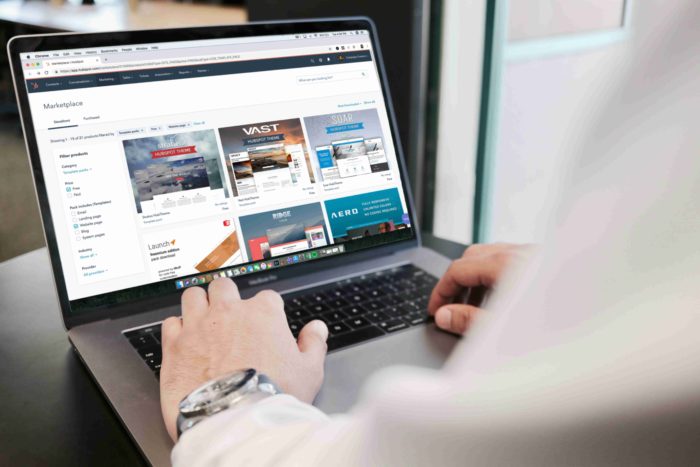 Every business wants to have an online presence and beat competitors. Major brands like eBay and Amazon have a massive footfall of customers that give smaller enterprises a chance to provide exclusive products and services through an online store.
Ecommerce is the future of sales, and you need an attractive website. Your eCommerce business website should be intuitive, responsive, and user-friendly, too. The website design should resonate with the brand and encourage users to explore the site. 
Attractive eCommerce website design and development turns visitors into customers. The design of the website has to be engaging and make the purchase process quick, easy, and stress-free. 
Advertisement campaigns are useless if customers are experiencing glitches and a website is not optimized for sales.
Here are 9 great tips and tricks to craft a beautiful eCommerce website for your business.
Keep The User In Mind
Every detail contributes to user experience. From product pages to contact forms and everything in between, every factor plays a significant role in the purchase of any product and services.
Ecommerce web design should be made, keeping the user in mind as it plays a vital role in turning visitors into customers and customers into loyal and frequent clientele. So, keep in mind ease of use, navigation, visual appeal, and overall aesthetics.
Simple and Functional Web Design
A website having a design that is simple and easy to navigate is better than a complex design with strong visual appeal. Yes, there is no doubt that visual appeal is a crucial factor, but complex websites can turn away potential customers.  
If you have a visually complex website, simplify the website design by eliminating unwanted information. This includes unwanted video snippets, links, images, etc. Create a clear call to action and don't create a landing page solely for the sake of SEO purposes. 
Don't Distract Users
The ultimate goal of your eCommerce website is to generate sales. Keep this as your prime concern: your goal should be reflected in the website design. It is a good practice that includes additional information like blogs, newsletter option, etc. These extra features must not drive away your visitors from the site and impact the conversion rate. 
For instance, place these extra features at the bottom of the website's homepage. Pop-up windows break the engagement of a user, and it might lead to abandoning the site altogether. The art is to invite the customer for additional features, not to shove those features down their throat!
Quality photos
The only fact that makes brick and mortar store more exciting is that you can review and experience the product practically. Virtual shopping can present barriers for shoppers, which can be resolved if you have high-resolution photos of each product displayed. 
A short video of a product is an added advantage, as it builds trust and credibility of a product towards a customer. Because of this, any pixelation seems unprofessional.  
A pop-up window feature with a magnifying view of a product to see minute details and examine it before making a final purchase can also be added.
Easy Navigation Menu
A menu bar helps users easily navigate to the desired category and product with a couple of clicks. It is essential to keep the menu bar universal across all the webpages. 
Keep the menu bar simple and organized. Don't try to put too much information on the menu as it will look cluttered and overloaded.
If you need to provide navigation to second or third-tier pages, make the menu bar as a pop-up window, i.e., when a cursor hovers over the menu options on the menu bar unfold. 
Keep your products organized
Product organization is essential, and a user should be able to find a desired product easily. Therefore, it is important to categorize products into specific categories. 
Products seamlessly incorporated into the organized menu bar helps to streamline the search and shopping mechanism.
When the products are specifically organized into the categories, users can discover different products and classes they were not aware of.
Search Bar
Some users already have a product in mind, and they type in the search bar for a particular product. It makes it easier for a user to get the product of their choice rather than taking a long road and scrolling through the menu. 
A search bar must be at the top right corner of the home page as it is easier to find.
Grid Layout
Organized rows and columns give an organized look to the website. This idea makes product browsing a cakewalk for customers. Don't try to haphazardly add too many products in the grid, as it does not looks visually appealing. 
Keeping ample space between two products helps a user to understand distinctively. 
Mobile Optimization
An eCommerce website should be optimized for smartphones. As the majority of the customers are using mobile for shopping, it is, therefore, essential to have a website that opens efficiently on a mobile web browser.
Responsive web design can adapt to any screen resolution and operating system. It eliminates the need for a separate mobile version of a website for different devices. 
Ready to Implement These Tips and Tricks?
There is a probability that users came to your eCommerce website because a particular product persuaded them to surf. Whenever a user browses your website, it is essential to give your traffic an enjoyable experience. So, keep the website dynamics user-friendly, simple, organized, responsive, and engaging. Keep the customer your ultimate priority.  
These subtle yet significant things can go a long way in the success story of your eCommerce store. 
What are the other strategies you would like to have and implement into your website? Did we miss something? Let us know the comments sections. Have a great day, fellas!
About the Author
Morris Edwards is a web developer & marketing strategist who works with Awebstar, a mobile app development company in Singapore. Apart from this, he loves to write blogs on web design, SEO & internet marketings. Follow him on Facebook and Twitter to get his new articles and updates instantly.