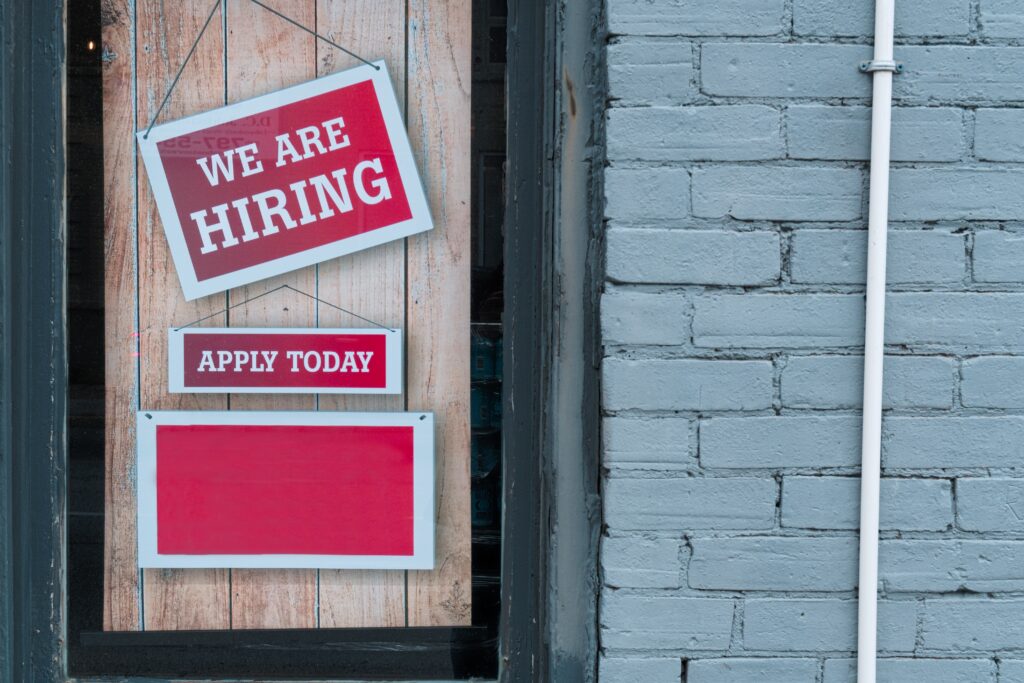 While traditionally, digital marketing is thought of as a method to attract new customers to your site, generate leads, and increase brand awareness, it can also be utilized for recruiting and employee retention. 
The truth is the pandemic changed the way people hire and search for jobs; most people looking for jobs are doing so online. While everyone's criteria for a potential employer are different, the first thing most people do is dig into your reputation online. If all they see are complaints, whether they hold merit or not, candidates will likely move on. On the positive side, if your brand has an excellent reputation from past and present employees, customers, and partners, they will continue to explore an opportunity with your company. To summarize, everything said online about your company will affect a potential employee. 
While it's an employee driven-hiring market, there are some things your company can do to make sure you capture as many qualified resumes as possible.
Your employees are your best offerings. Your digital marketing should showcase your longest-tenured, happiest employees. This will not only showcase your company culture but also allow potential employees to hear how great it is to work at your company. 
Similar to how inbound leads are the most effective, the same remains true with applications. When candidates apply for a job, this means they are genuinely interested. Inbound marketing is most effective when you have intentional content catered to your ideal customer. Similarly, when potential employees are searching for jobs and openings at your company, you should appear at the top of Google's search rankings. 
Social media is another key to harnessing the power of digital marketing for your hiring efforts. If you identify where your ideal hires are online based on interest, demographics, etc., you can determine which social media platform makes the most sense for you. LinkedIn allows you to promote job listings, as does Facebook/Instagram. Paid job postings are often a great way to help companies get the highest number of applicants, though they may not be the most qualified. On the other hand, recruitment marketing is advertising on Google, socials, etc., that can be inbound or outbound and will generate more qualified leads for your job listing. 
Digital Marketing Hiring Methods
Share employee stories on social –

This will allow you to showcase your organization's unique identity and show why someone should work at your company.

SEO for career pages –

As we discussed above, inbound prospects are going to be much more qualified and have a genuine interest in your company. Making sure your positions appear for Google searches is vital as this will increase leads to your career page.

Run hiring ads for specific positions –

We've tackled the inbound hiring methods above, but if you need those positions filled quickly and have a few dollars to spend, try an outbound method. You can utilize social media to advertise open positions, whether you're utilizing a sponsored job post or running a lead gen ad where applicants can apply directly on Facebook by filling out a form. 
So when hiring for digital marketing, it's important that you're considering your online presence as well as the listings themselves. Then, if you want to get a bit more aggressive with hiring, consider running outbound ads on social media and inbound ads on Google.
Whether you're hiring new staff or customers, the same applies to both, and an effective inbound and outbound strategy will help your business in both avenues. 
Retention Marketing Methods
Retention marketing is also essential to digital marketing and how your brand can work for you. It's much cheaper to retain existing clients than earn new ones. Similar to hiring, customers of all kinds are moving online, and they expect a certain level of interaction and personalization before, during, and post-sales process.
Build Customer Trust and Foster Long-Term Relationships – To build this customer trust, you should start by listening to your customers. Through listening to this feedback, you'll discover how to deliver customized experiences that speak to them. 
Leverage Customer Data – Sure, a survey is great, but you should know the answers without having to ask customers. Once you have this data, such as purchase history, customer service needs, etc., you should be able to identify where your business objectives overlap with the wants and needs of your customers.
Marketing Automation – Maybe the biggest opportunity from a retention standpoint, marketing automation technologies can work without you having to do much of anything. This can be done in various ways, from email marketing to re-engaging leads with personalized offers. Email marketing allows you to upsell, supplement during your sales process, or re-engage lost leads. Other AI software will recognize when users have abandoned their carts and send them texts or emails with personalized offers for the items in their cart, such as a 10% off offer. 
Conclusion
While hiring and retention are two very different things, it's important that you're fully optimizing your digital marketing strategy for both. Whether hiring new staff, gaining new clients, or retaining customers, it all starts with understanding where your target audience is and catering content to them. The most important point is understanding your applicants' or your potential customers' needs and identifying where they overlap with your business objectives.