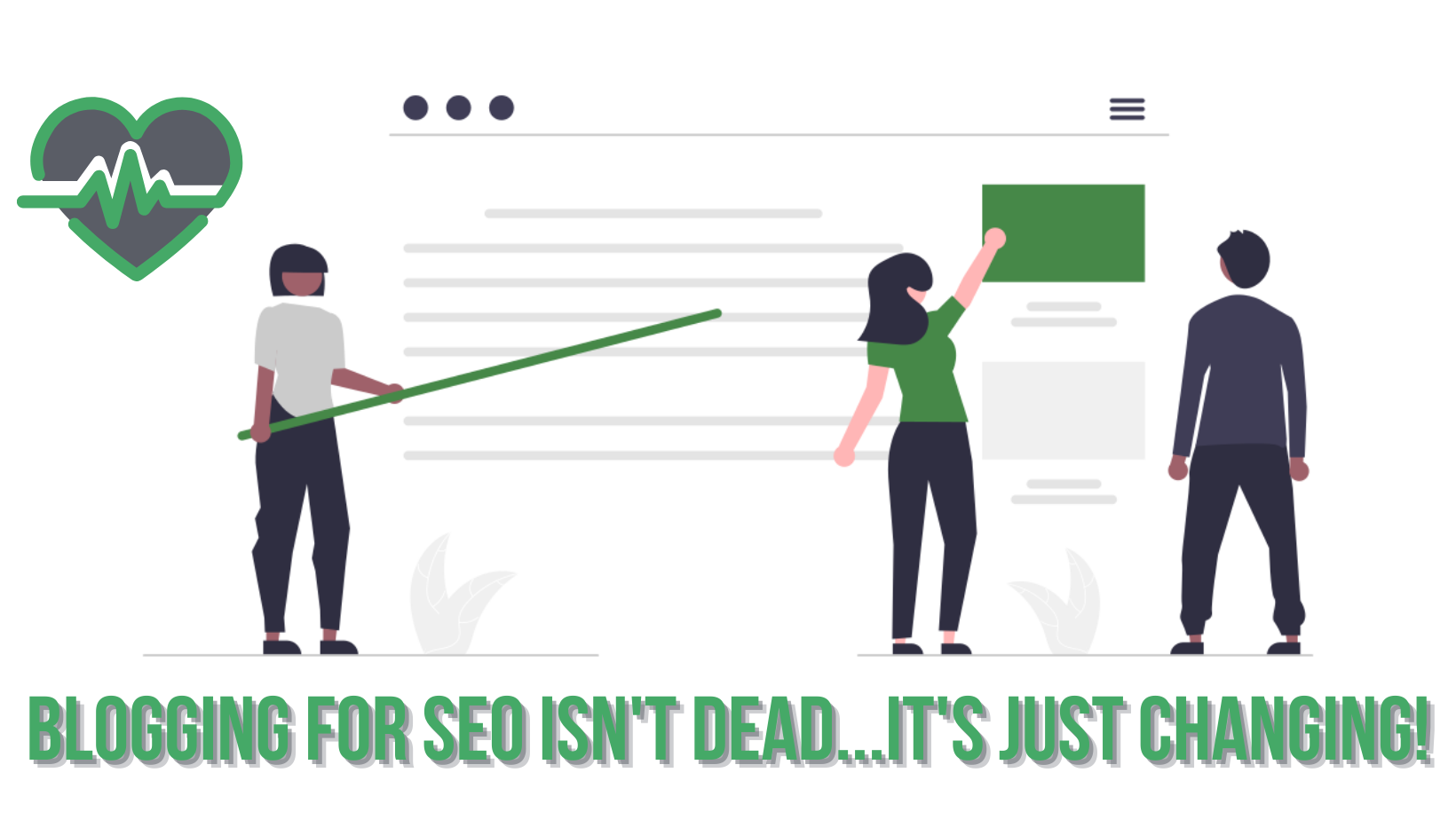 If you've been following our Digital Marketing Myths Debunked series on social media, you will have seen that many of them are about SEO, and for some reason, whether it be due to reading inaccurate information or simply not knowing, many people believe blogging is dead. 
In reality, it's as important as ever to have a blog and constantly create new, focused content — however, understanding how blogging works is the key to developing an overall marketing strategy. 
We will first assess a few reasons why blogging isn't dead before getting into our tips for writing for search engines. 
Some would rather only focus on social channels and ignore blogging, but this isn't the way to go. You don't own social media! We have zero control over how Facebook, Instagram, Linkedin, etc., decide to update their algorithms based on who sees specific posts and when. This also applies to paid advertising; we don't control an increase in cost per click, costs per thousand impressions, or costs per conversion. 
Blogging is content marketing! Blogging is just another form of content marketing, and you need content marketing to remain relevant online. It's how you are found, and it's how you build brand trust with your target audience. Your blog is a marketing tool that allows you to establish yourself as an expert in your field and ideally monetize the expertise. Once you get past viewing a blog as a diary, hopefully, you will begin to grasp the opportunity to connect with your audience, providing a valuable resource that can solve a specific problem, answer questions, etc.
A blog is key to an SEO strategy! Your target audience isn't going to trust you or hire you if they can't find you online. Blog content shows up on search engines, which social media posts, ads, etc., do not. If you're focused on SEO at all (and every business should be), then blogging is as alive as ever!
A blog allows you to appear…Everywhere! You can use your blog for more than just written content — you can use it to promote a podcast, video, and more, to show up in SERPs (search engine result pages) and drive traffic to your various media outlets. You can also go the other way and repurpose blog content in podcasts, on YouTube, and even post to social media to drive traffic to your blog.
Tips for Writing for Search
Write with your audience in mind:

This might sound obvious, but many companies make the vital mistake of writing for SERPs only. Write content that appeals to the interests of your target audience and answers all of their questions. Not all posts need to be about your services or products, but they should be relevant to your industry. You want to write content from the standpoint of an industry expert by writing SEO-friendly content that is interesting and informative while doing a better job than your competitors. 

Write with keyword density in mind:

The first step here is to do keyword research, identifying keywords relevant to your industry with a high search volume and low keyword difficulty. There are paid and free tools that you can utilize to do this, no matter your budget.

Moz Keyword Explorer

is a great tool that offers all of the SEO insights you will need with pricing with a free option for up to 10 queries per month, with pro plans starting at $150 per month.

Semrush

is another excellent tool that we use, with plans starting at $119.95 per month.

Keyword Surfer

is a free Chrome extension that  allows you to see search volume, cost per click, pages ranking for the searched term, and traffic to pages ranking 1-10 for the term anytime you perform a search. This doesn't provide keyword difficulty, which tells you how difficult it would be to move to the first position for this keyword, but it can be helpful if you're on a budget. Another free tool is within Google itself in related searches (at the bottom of a SERP) and Google's prediction autocomplete feature (as you type your keywords, other frequently searched keywords will appear). Once you have your keywords, both short and long-tail, and clusters of relevant words you wish to rank for surrounding your keywords, start writing, aiming for a 2-3 percent keyword density.

Create a Content Calendar:

Create a content calendar once you have identified the keywords you believe to have a good search volume, are relevant, and appear to be attainable from a keyword difficulty standpoint. Include a base keyword and keyword clusters, adding other relevant keywords and other longer-tail keywords to target within your blog post. This can change over time as you see what keywords you're moving the needle for. 

Create attention-grabbing headlines and helpful subheadings:

Your title is the first impression for any piece of content you publish on your site, and don't underestimate the power of a compelling headline. Your headline should include your keywords and should be interesting and clear. Pro tip: Have a clear and concise meta description and title for your article as well; this is what will show up on a SERP, so you want to make it attention-grabbing and informative. Meta titles should be about 60 characters, while meta descriptions can be longer at about 150 characters. 

Your content should be easily navigable:

Along with the subheadings tip above, make sure your blog post has a clear flow with subheadings that answer specific questions or provide relevant information. Your content should be easily navigable, and having a menu with hyperlinks to particular parts within the same document can help.

Include an image:

 Images make your blogs pop, and most people are visual. Adding an image can make a huge impression. You can also pin any posts containing images on your Pinterest page to increase traffic to your blog. Pro tip: make sure to add an image alt tag to your image containing relevant keywords, but avoid keyword stuffing!

Drive traffic to blog posts with social media:

As previously stated, you can repurpose blog content on social media to drive more traffic to your site and to that specific piece of content. The power of social media is that it's a community online, so building your community there with the goal of increased sharing of your content will go a long way. 

Promote natural link building:

Link building is an essential factor in ranking for SEO. Each of your blog posts should have two internal links to other pieces of related content, or pages, on your site. Also, try to include two external links, which should link to other pieces of content on the web that relate to your blog post. While this will provide you and others with backlinks, if your content is written from a professional perspective, other industry professionals will naturally utilize your content, thus building your backlink profile. Google and other search engines appreciate content shared and linked back to, so your overall search ranking will improve if others utilize your content.

Monitor your efforts:

SEO is not something you can create a strategy for and then leave it, the same way you can't just create a blog post and let it sit forever. Google Analytics is an easy way to track page views, time spent, and sessions per user. Bounce rate and time on site allow you to monitor what is working and what isn't when users land on your content. If you see a high drop-off and low time spent on a blog post, you can infer that your content wasn't relevant to their search query or wasn't interesting. You can also utilize Facebook and LinkedIn insights to check social interactions such as likes and shares to better understand how your community is talking about your post and whether they are engaging with your content on social media. These metrics can give you a better idea of what people like and interact with, so you can replicate the good and do away with the bad in future blog posts.
Honorable Mentions
Here are a few other tips to help boost your SEO that didn't quite make the top 9 but can still help move the needle. Keep updating your old blog posts that are still getting a good amount of site traffic to make sure they stay relevant. For example, if an outdated blog post with a year in the title is still getting a ton of traffic, don't change the URL because you don't want to lose that traffic, but instead update the page title and the content to make it more relevant to today's users. 
FAQs and question answering within your blog post can help you earn a featured snippet or "that box at the top of a search engine result page." While your entire blog post should not be answering a question, if you can include an FAQ portion or simply answer questions your audience may be searching for answers to within your content, you will be able to give yourself a better chance of being seen. Google doesn't tell you who will earn a featured snippet, but writing with this tip in mind will increase your chances of earning a featured snippet. 
Lastly, you can also incorporate your blog posts into your company's email marketing campaigns, such as newsletters, drip campaigns, etc. 
Takeaways
Blogging isn't dead…at all! The only true thing is that the definition of blogging is constantly changing, as are search engine algorithms. Blogging is a marketing tool that isn't going anywhere anytime soon. Your blog is the only content you truly own, so don't fall into the digital marketing myth that blogging is dead!