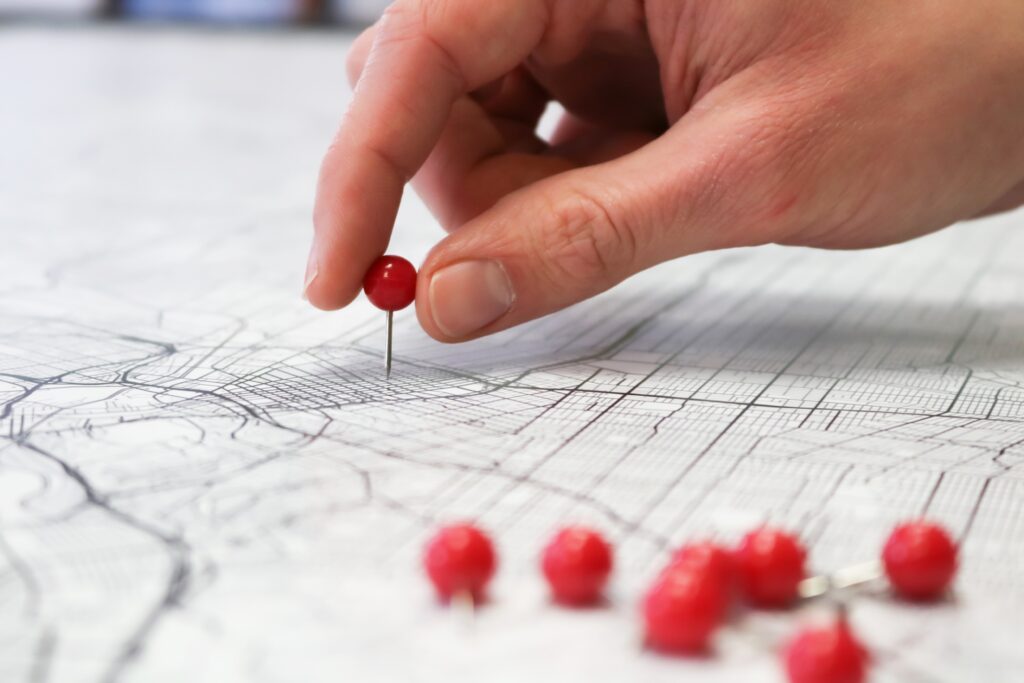 Geofencing refers to location-based marketing that lets you target smartphone users in specific geographic locations through mobile apps and web pages. Geofencing uses GPS or RFID technology to identify specific users who have entered a location for more than 10 minutes or numerous times. The beauty of geofencing is that you can target any specific date range within the last year, so you can recapture those advertising opportunities you thought you lost. 
Geofencing allows you to draw a virtual fence on a map around as big or as small of a location as you need. For example, if you attended a conference a week ago but wanted to show attendees a personalized ad for your company for the next 90 days, you could do that with geofencing. 
How does geofencing work?
The idea of geofencing might sound complex, but it's quite the opposite. Continuing with the example above, here is how geofencing works. 
Identify the event, location, and date range of the conference.

Draw the virtual fence around the conference venue and set the date range.

All mobile users with location tracking on their smartphones will be captured.

Design your ad creative.

Create your audience on Facebook and allow it to populate.

If they are able to tie the mobile ID to a Facebook profile, they will be added to your audience.

Turn on your ad.
You might be asking yourself, so what if I want to advertise outside of Facebook? What if they don't have location tracking settings appropriately configured? 
Well, there are tons of ways you can utilize geofencing outside of just Facebook. As we mentioned, you can show ads to individuals on Facebook and Instagram, far past them leaving your geofence, you can push notifications to emails or Androids/iOS, or you can use addressable geofencing for advertising to users at their homes via CTV, audio, or display networks. Addressable geofencing doesn't require users to have their location tracking turned on, so you can confidently target the right audience.
Use Cases
Geofencing and the technology behind it is growing rapidly. Since you can go back 365 days or geofence a location this very second, the opportunities are endless. That said, geofencing isn't just ideal for brick-and-mortar locations that can target their store or their competitors, but there are opportunities for almost everyone!
Here's a look at some real-life examples of geofencing that will help you understand how many opportunities there are.
Geofencing for Retail Stores: Typically used to increase the traffic into a brick-and-mortar location, a retail store could geofence the area around their location. When users enter the area, they could receive a location-based alert or see an ad on their social media for up to 90 days after entering the geofenced location. This retail store could also fence its competitors with a deal that only users who see their ad would get. 
Geofencing for Events: This is probably the most popular type of geofencing. The venue can geofence and show visitors ads about upcoming events. The performer can geofence the area around the venue or other venues in the same city before the event to sell tickets. Event ideas for geofencing could include conventions, stadiums, arenas, festivals, campuses, farmer's markets, and tons more!
Why use geofencing?
Right Place, Right Time: Location-based marketing allows you to reach the right people at the right time. While traditional outbound marketing only allows you to target based on demographic, interests, etc., geofencing will enable you to target individuals and personalize the advertising they see.
Tracking: Similar to traditional social media advertising, you can determine your customer acquisition cost by dividing total ad spend by the number of customers. Furthermore, you can review click-through rates and cost/conversions to determine whether your geofencing campaign is working. 
Cost-Effective: While most digital marketing campaigns require a large budget to deliver, geofencing is much more cost-effective. The reasoning is that you've already done the leg work defining your audience, while with traditional marketing campaigns, you're spreading a wide net, hoping to get in front of the right people. 
Growing Market: While geofencing was created in 1995, it has become much more popular over the last five years. That said, geofencing software has been improving, and this will only continue as more companies add this tactic to their digital marketing strategy. Get ahead of your competition! 
Conclusion
Geofencing lets you capture users based on their physical location instead of just what they're interested in online. The software will only continue to improve as more and more companies and digital marketing professionals utilize it more and more. With all of these opportunities to use geofencing, such as promoting virtual events, driving web traffic, and increasing foot traffic in a brick-and-mortar location, there are no excuses not to incorporate geofencing into your digital marketing strategy. The reality is your competitors are probably already using geofencing, and if you aren't, you should explore it!