Brimming with delicious cupcake recipes and elegant wedding ideas, Pinterest can be easily labeled with a "Consumer Only" warning sign.
But don't shut the door on this social media titan's possibilities for serious marketing strategies.
Here are three ways you can start using Pinterest today to attract and acquire customers:
1. Lay down your Pinterest foundation
Ok, where to start? You probably already have a Facebook and Twitter account. But Pinterest's appeal lies almost entirely in the visual. If you can envision it, Pinterest has content for it. Keep the visual theme in mind as you first create your business account: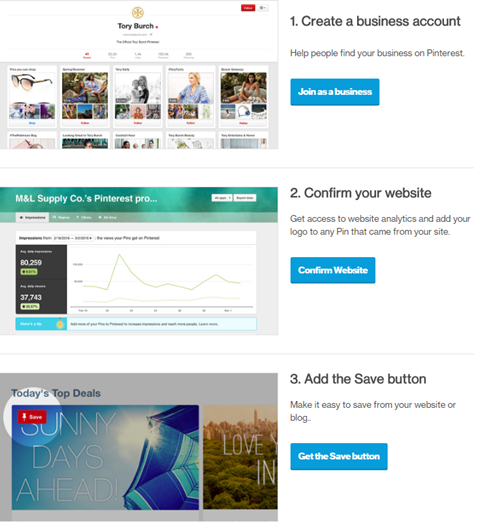 Pinterest has great resources for commercial accounts including how-to's, tools, and success stories to see how other businesses thrived using this platform. Keep your Pinners top priority while posting. Pinterest is all about sharing ideas so check to see what ideas are trending by checking your website's analytics or ask your customers directly.
2. Pin with Purpose
Pinterest can overwhelm with its seemingly endless collections but focus on creating specific boards to clarify your message to a certain audience. As with any media channel, there is plenty of noise and distraction. Your goal should be to rise above the commotion and target a specific group. If your reach is too broad, it will be too general to connect and convert leads into sales.
For example, if you are a bakery, keep your boards about dessert recipes or decorations. Avoid too general topics like "food" or "cooking".
Again, Pinterest is about the Pinner so focus on what makes your business unique. What inspires your company? What would be attractive to your target audience? Think of Pinterest as an open medium to share your story artistically with the world.
Feel free to glean ideas from other businesses in your industry, and follow your competitors to see what topics need to be covered on your account and for your company in general.
Now is the time to fortify your visual library. A simple place to begin is start browsing for Pins related to your boards. Add Pins that reinforce your brand and mission. While you want your collections to be "Pinner friendly," remember your Pinterest is your story board. Add pins including your products, specials, and links to your blogs or other special content. It isn't all about the pictures either; posting videos can lead to even more customer engagement.
While developing your Pinterest presence, make sure to optimize your main business site for this platform. Use their developer tools to make buttons or widgets for your site:

3. Sell, Grow, and Adapt
Now that you're feeling more comfortable with the Pinterest fundamentals, we can take a deeper look into other types of Pins. Did you know customers can buy your products directly from your Pinterest board? They can with Buyable Pins. Making purchases right from the Pinterest app can expedite the sales process and turn your prospect into a closed sale. Another advantage of this tool is Pinterest doesn't take a percentage of the sale so you can enjoy the full benefits of the transaction.
With Promoted Pins, your business can pay to have your Pins visible to more people like a Facebook Ad. Some specific marketing goals with these include driving awareness, engagement, or traffic.
Now that you're selling and promoting, keep track of the important data points by using Pinterest Analytics. You can see which of your pins are popular, discover trends among your audience, and tweak your marketing campaign in response.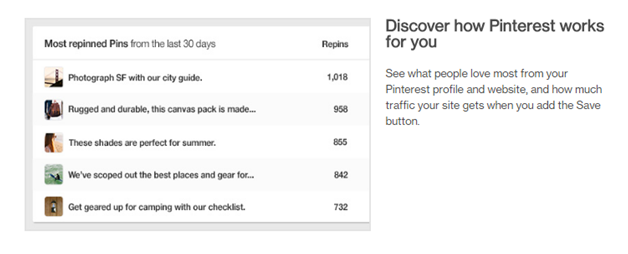 Even though it is a business account, have fun, be social, and pin engaging content to charm your customers with Pinterest.