By now we all know the power and the reach of the internet. The internet can make or break you, depending on how you use it and how you manage your online presence. And unless you are the lovable character Barney, you've probably experience the positive and negative sides of the internet.
Knowing this, why don't businesses make use of online reputation management? Reputation management is a vital tool that most businesses may not be managing at all and if they are, they may not be managing it well.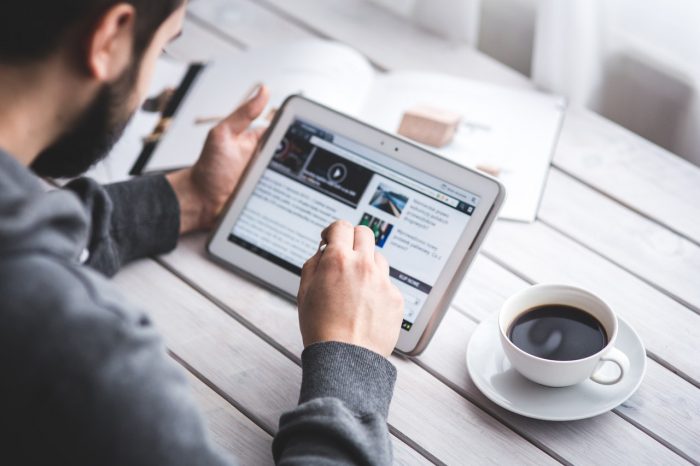 Why You Need It
As we have already established, the world of the internet is as vast as our universe. With newsworthy topics and the constantly changing trends of the internet, anything can spread like wildfire. Positive reviews and impressions of your company spreading across the web are ideal, but when you're not properly monitoring your online presence, the spreading of a negative review can tarnish your image and can get out of hand, especially with people who like to "add fuel to the fire." Hiring a reputation management company can help you to nip negative reviews/comments in the bud and address these issues head-on.
Large companies may be able to keep a watchful eye on their online reputation, but for smaller and medium-sized companies with smaller staff sizes and limited hours, this could be a feat. This is where having a company to manage your online reputation can come in handy. You may not always be able to monitor online discussions of your business, but hiring a company who specializes in this can help you keep an eye on it and also will notice those reviews, both positive and negative, that may slip through the cracks.
4 Reasons Why Reputation Management is a Must | SOCi
Benefits
There are many benefits, even unforeseen ones when managing your online reputation. Think of your online reputation as a chain of events. Having one benefit could lead to many, many more.
With the internet comes many different mediums for customers to write their reviews and experiences and for potential customers and buyers looking to make an informed decision, they turn to these easily available online reviews. Although you cannot control what others say about you, you can hire a digital marketing agency to help manage your online reputation.
Having positive reviews and a positive reputation online will naturally bring trust to what it is that you're selling or servicing and in turn, will make future potential customers trust that you are a reputable, trustworthy and credible source that provides quality work, products or service. In fact, people tend to trust other consumer opinions 70% more than seeing paid advertisements.
Moving on to the next chain in the link, improving trust could reap more profits, whereas a lot of negative reviews can have the opposite effect. If customers are actively searching online for something they need and come across your business and see that there are many positive reviews, it could lead them to become your next customer or completing a valuable conversion.
With these benefits under your business belt, you could also find yourself facing a pleasant dilemma… deciding who to hire. Although money can bring people, a good reputable company with positive reviews, both external and internal will bring applicants and cause them to stay. Just like a top D1 champion school or Google, for instance, qualified and talented individuals will want to work for you!
Benefits of a Good Online Reputation | Reputation X
Tips & Tricks
One very easy trick to help you monitor your online reputation is using Google Alerts. Google Alerts will send you alerts or emails whenever someone mentions your business, brand or any keyword you're interested in online. This can be a helpful tool, especially after hours when you're not one hundred percent focused on monitoring your business.
This might seem like an obvious tip, but any business is bound to have at least one negative review or comment surface, so it's best to handle it with poise and tack. If you do happen to catch a negative review, respond to it in a prompt and professional manner.
Although you cannot control what someone says about your company, you can control how you decide to approach and handle it, so be wise. Other internet surfers may also see this negative review/comment and their curious eyes will automatically be drawn to how you handle it. If people see that you handled it professionally and to the best of your ability, they may be a little more understanding of the situation and may not let this negative comment/ review affect their perception of your business.
A first-line-of-defense and simple approach to handling reviews is by allowing your customers to give you feedback online, directly on your website. This can help you swiftly address issues and concerns without someone having to vent across the internet. Providing your customers and visitors with the option of filling out surveys and questionnaires can give your business a chance to address problems head-on. This also allows your customers to know that you want to be transparent, approachable and that you care about their feedback, whether it be bad or good.
Online Reputation Management: 5 Fool-proof Tips for Your Brand | Simplilearn
This post is meant to be a general, introduction course to online reputation management and is not all-inclusive. You can reap some of the benefits that come with trying to actively monitor your online reputation or you can reap all of the benefits that come with hiring an experienced reputation management company like Beanstalk Web Solutions to thoroughly sift through your online reputation.
Hiring a professional company to manage your online reputation can provide your company with tools and resources you may not be able to get on your own and to promote your positive reviews online, so it's best to at the very least consider this option.