Social Media Strategy For Business 2021
The time to start thinking about creating a social media strategy for business is finally here. It might be a foreign concept, but the goals of this blog post are to show you that it doesn't have to be difficult and to hopefully get you moving in the right direction creating your business' social media strategy.
Before we get to our step-by-step guide, let's start thinking about your social media strategy for business by addressing the five Ws.
What?
What is a social media strategy?
A social media strategy for business refers to using social media channels to promote your brand or sell a product or service that your company offers. This can refer to either paid or organic campaigns, and they're most commonly used to help businesses increase brand awareness, advertise products and services, build communities, or provide customer service.
Who?
Who is your ideal audience?
The first step in any social media marketing strategy for business should be learning everything you can about your audience, as this will help you create content, determine when to post, and determine where to post. The entire goal of a social media strategy for business is to turn your social media followers into converting customers for your business.
When creating your audience personas, take into account the following demographics:
Age
Geo Location (Time Zone)
Language
Avg. Income / Spending Power
Job Title
Industry
Interests
Challenges
Once you've researched these demographics, compile data on your existing customers and your existing social media following. Chances are you probably already have tons of great information; you might just now know how to use it. From your current audience, you can determine things such as who your followers are, where they're located, and how they engage with your brand online. You can use these audience insights to guide your social media strategy for business and increase your ROI.
When?
When should you be posting?
According to an article by Sprout Social, the best times to post depend on your industry and which platforms you have decided to use (more on that in the "Where?" section). Once you've determined who your target audience is, you will be able to decide better when exactly you should be posting. This article considers their over 20,000 customers' social accounts and looks at when their content was most and least frequently engaged with, broken down by platform and industry. For example, the best time to post on Facebook is Thursday 3-4 PM in the tech industry.
Where?
Where should you be posting?
Rather than posting everywhere, which might sound like the logical thing to do, we recommend identifying the social channels that your target audience uses based on their demographics, interests, etc., and selecting the social media channels to use that way. For example, if your target audience is chief marketing officers, LinkedIn and Facebook would be the recommended channels.
Why?
Why should you have a social media strategy for business?
Your customers and potential customers are online, and you need to be where they are; it's as simple as that. Okay, there's a little bit more to it than that. A social media strategy for business allows your brand to build a strong organic presence by setting a schedule and posting consistently. Along with this, a clear social media strategy for business will allow you to save time, achieve your goals, engage your existing audience, and grow your audience simultaneously. Most importantly, a social media strategy for business will allow you to stay ahead of your competition. With a consistent posting schedule, you can dial in on the details that help you stand out from the crowd. You can analyze what's working, develop your brand's message, get creative with the look and feel of your brand accounts, and provide a sense of value to your followers.
We've discussed the who, what, when, where, and why of creating a social media strategy for business, now let's tackle the most important part — how.
How?
How to create a social media strategy for business?
Let's take it step by step. The first and most important step for creating a social media strategy for business is setting specific goals for your business. Think about what you hope to accomplish with your social media campaign. Do you wish to build a community? Do you hope to increase brand awareness? Generate leads? Drive sales? Grow your audience? Drive site traffic?
No matter your goals, a content strategy will help you achieve them.
We've broken creating your content strategy for business into ten easy to follow steps.
Step 1: Target Audience
As mentioned in the "Who?" section above, after setting your goals, you should take time to determine who your target audience is. Most of the information you need can be found by analyzing your current social media following; you just need to know where to look. Facebook, LinkedIn, Instagram, Twitter, and YouTube allow you to analyze your following and determine things such as age and location. Once you've established your target audience, select which social media channels you wish to utilize.
Step 2: Pick Your Social Media Channels
The most important thing to remember when determining which social media channels to use is that different platforms attract different audiences. For example, LinkedIn's users are well-educated businessmen and women, Facebook and YouTube users are high-earning individuals, and most of Instagram and TikTok's users are millennials and Gen Zers.
The information above, combined with the information you pull from your real-world audiences, should provide you with enough information to base your decision on which channels to utilize and how to communicate on each.
Step 3: Based on your goals, establish your KPIs (Key Performance Indicators).
Similar to deciding on which channel, it might seem like you should focus on every metric, but narrow the focus to those that matter most. Your social media business goals should be SMART, and so should your social media KPIs. Need help determining which KPIs to target?
Clicks – This refers to how many people click on the link or the call to action (CTA) in your post.
Reach – This refers to how many users see your post.
Engagement – This can be broken down into likes and comments, or simply average engagement rate, calculated using the following equation: Likes + Comments + Shares / Followers.
Follower Count – The total number of followers your social channel has at the time.
Reach – How many people have seen your post since going live. This can be calculated with the following equation: Post Views / Total Followers x 100.
Conversion Rate – The number of users who follow your CTA compared to the number of clicks on any single post. This can be calculated using the following equation: Conversions / Total Clicks x 100.
CTR (Click-Through-Rate) – This is the percentage of people who viewed your post and followed your CTA. This can be calculated using the following equation: Total Clicks / Total Impressions x 100.
Bounce Rate – This is the percentage of visitors who click on a link and leave the landing page without taking any action. This number will inherently be very high but can be lowered by creating engaging landing pages with great UX.
Step 4: Fill Out Your Profiles
Now that we've taken care of our goals, picked our social channels, and set our KPIs, it's time to move forward with our social media strategy for business. The next step is to fill out your profiles. A complete, cohesive profile across all platforms shows professionalism, and cohesive branding across the board shows users that you're committed to your brand's online image. Your profile requires both visuals and text. For visuals, you must create something on-brand and familiar to your customers. Here is a helpful cheat sheet for profile pictures and cover photo/header image sizes.
As for text, your message must be consistent and personable across all of the platforms you've selected with keywords tailored to your audience. Most importantly, don't just write this and leave it for the next few years. Instead, revisit it often, and tweak it to improve it, specifically for potential followers.
Step 5: Find your voice.
Now that we've set up our profiles completely, let's choose a voice and tone. Consider your brand's personality, how you want your audience to hear you, what they want to hear, and how you want your customers to think about your company. Once you've completed this, you should have a good idea of your company's voice and tone for your marketing. One of our partners, Semrush, has a great article to help you establish your voice and tone.
Step 6: Don't ditch your planner.
Next, let's create your posting schedule and strategy. We find it helps to create a calendar with each of the platforms and the graphic, topic, CTA, and link. Hootsuite has various templates to save you time and effort when creating your brand's posting schedule and strategy. When it comes to what you should be posting, there are six types of updates: Links, videos, images, quotes, reshares, and plain-text updates. While you want to use a variety of these update types, as mentioned above, you want your audience to know what to expect from you as far as tone and voice regardless of the kind of update.
So, we know what to post, but how often should we post?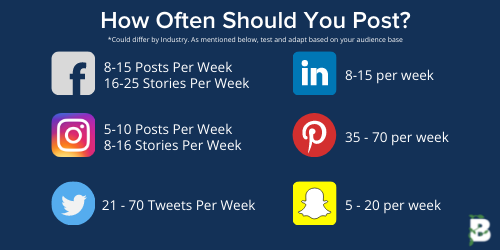 Refer to the "When?" section above for when to post based on industry and platform. Remember, these are just suggestions based on data, and you should analyze and test to find your sweet spot.
Step 7: Create & Curate Content.
Once you've set your KPIs, it's now finally time to create your content. As mentioned, your posting schedule should be detailed enough that you know exactly what content to create and when to post it. You must create content that your audience is going to engage with — it should come as no surprise that a successful social media strategy for business relies on stellar content, from the graphics to the copy.
Step 8: Review and refine.
The last step is to analyze data and test. As with anything, you're not going to be perfect right out of the gate, but hopefully, after reviewing our guide to social media strategy for business, you will be in a better spot. As you post, you will be able to analyze which content, timing, and frequency are working and is suitable for your brand and your audience. Once you have a benchmark of data, you will be able to set more realistic KPIs, test new techniques, and review how your campaign is going. Your social media strategy for business is not something that you plan once and never look at again; it's a living thing that is ever-changing, so make sure to treat it as such.
Step 9: Automate
Once you have followed all of our steps to creating a social media strategy for business, you should be able to determine whether you have the time required to create content, post, and analyze your social media efforts. If the answer is no, there are very useful tools that you can use to automate the posting of all of your social media content and compile all of the analytics in one platform.
Step 10: Don't stop at a social media strategy for business.
You did it! You now have a social media strategy for business that's unique to your brand and automated as much or as little as you need. Now all that's left is to engage with your audience. When users talk to you, mention you, comment, etc., make sure you talk back. These conversations online with customers, references, colleagues, or potential customers will drive conversations offline and ultimately lead to a growth in your following and more engagement.
Tips for 2021
When creating and curating your social media strategy for business, here are a few tips and trends for 2021 and 2022 that we believe are essential to keep in mind.
Stay up to date on trends, algorithm updates, new features on all of the social media platforms you've elected to utilize in your social media strategy for business, and constantly improve your strategy.
No matter the shifts in trends, make sure your content is on-brand and consistent. Following a consistent theme can help you zero in on your content strategy.
Engagement driving techniques such as stories are massive in 2021 and aren't going anywhere. While with posts, you are at the mercy of algorithms, stories appear chronologically.
Another engagement driving technique that allows you to communicate with your audience in real-time is livestreaming. With more businesses going digital, livestreaming events rose to popularity and will undoubtedly continue to remain popular as users have gotten used to interacting with brands on their devices. Livestreaming should be a part of any brand's social media strategy for business in 2021 and beyond as it has been a growing trend, especially with the global health crisis that will affect all companies far beyond 2020.
Video is HUGE and is only getting bigger. The proof is in the pudding, as they say. As you scroll through your social media feeds, you're likely to see videos all over. According to Cisco, "By 2022, online videos will make up more than 82% of all consumer internet traffic- 15 times higher than it was in 2017."
Utilize platform-specific tools. Instagram, for example, is constantly adding new features such as shopping stickers, Reels, swipe-up links, and much more. Make sure to utilize these and use them to your advantage! At Beanstalk, we love Instagram Stories for business, and we think it's entirely underutilized in almost every industry. Instagram stories, as mentioned above, appear chronologically at the top of a user's feed and are essential to any organic social media strategy for business. Posting stories humanize a brand and engage your followers. You can also appear for those who aren't yet following your account by utilizing hashtags in your story.
Authenticity! Be authentic and transparent about your products or services. You have to let people know that they can trust you, and authenticity online is a great way to do so.
Get started on your social media strategy for business today.
In conclusion, these ten steps will allow you to create your social media strategy for business in 2021 and beyond.
 Set your brand goals

Define your target audience

Determine which social media platforms to use

Establish KPIs

Fill out Your Profiles

Choose a Voice and Tone for Your Brand

Plan a Posting Schedule and Strategy

Create and Curate Content

Analyze and Test

Automate and Engage
In 2021 and beyond, social media will continue to be a massive part of our lives and somewhere that your customers are spending a lot of their time. After reading this article, we hope it no longer seems like an impossible task for you or your brand to tackle your social media strategy for business.
We hope this article has made it possible for you to tackle your social media strategy for business. If you have any questions about paid social media or creating your social media strategy for business, contact the professionals at Beanstalk Web Solutions.