Beanstalk Web Solutions has been featured in the Webster-Kirkwood Times. Below is the article that was featured on August 21, 2015.
Computer science aficionado Tim Hebel has turned his childhood computer programming hobby into a bona fide business.
In 2011, he founded Beanstalk Web Solutions, which offers website design, e-commerce stores, pay-per-click ad management, SEO campaigns, large web application projects, custom programming and web technology consulting.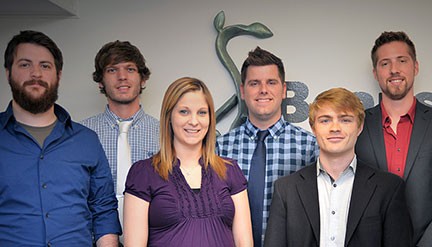 "I've always had an interest in computer science, and while growing up programming was a hobby of mine," Hebel said. "So often in this industry, companies take advantage of those who lack computer science knowledge. It was my goal to start a company that provides effective web-related services in a transparent manner and at a fair cost."
Hebel started Beanstalk as a self-taught, solo practitioner in his home. He now has a team of employees working in a lively office in downtown Webster Groves. He began by building websites for small businesses. Now the business includes Internet marketing services and advanced web programming. He and his crew represent a wide range of skills including graphic design, sales and client development, marketing and public relations.
Hebel gets the most job satisfaction by providing excellent customer service and knowing he can help clients expand their businesses. He also finds satisfaction in "knowing that I can help my clients while also providing my services at a fair price," he said. "I also enjoy networking with the business community in the St. Louis area."
Clients tell Hebel they appreciate him being straightforward about how web development and Internet marketing works.
As an example of its transparency and its confidence to let results speak for themselves, Beanstalk offers month-to-month contracts for Internet marketing services.
Beanstalk launched a new website Aug. 4. It is offering a limited-time sale on its pay-per-click ad management service and waiver of the set-up fee.
Beanstalk Web Solutions
23 N. Gore Ave. Ste 004 • Webster Groves • 314-736-4430
Here's a link to the original article.