The survey article, 56% of Small Businesses Are Prioritizing Social Media in 2022, was published on UpCity. As one of UpCity's Top Social Media Agencies in the U.S., Beanstalk Web Solutions' very own Owner / Founder, Tim Hebel, contributed his professional insight.
As the COVID-19 pandemic continues, U.S. and Canadian-based small businesses are adjusting and adapting their social media strategy to reach their audiences effectively. This includes assessing their most impactful social media platforms, the content types that they produce, and the posting cadence that drives the best results.
UpCity, an online marketplace that connects businesses with trustworthy B2B service providers, corresponded directly with the social media marketing experts on their insight into how small businesses are handling social media. Tim provided his expert reaction to the original data point: 66% of small businesses mostly shared original social media content Pre-COVID, compared to 63% now in 2022.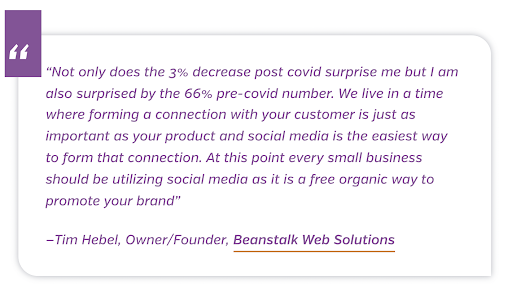 For more information, read the entire UpCity survey article here.