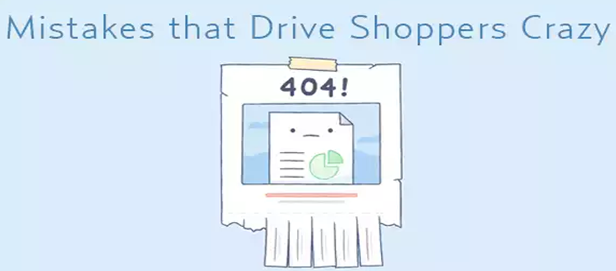 Undoubtedly, today's world E-commerce is making great strides, however, maintaining a successful E-commerce website can be a difficult commitment. E-commerce mistakes are common.
E-commerce websites have been playing a virtual role all over the world because it is a proven way to gain more customers and boost sales. E-commerce websites have made it easier for consumers to purchase products while being at home. It is easy to start an E-commerce website, however, maintaining and managing the business is a complicated process. E-commerce websites are steadily eradicating the need of physical company set-ups because these websites not only help in increasing sales but also has a significant role in improving the quality of the services.
E-commerce websites help to more customers because there are no geographic limitations. E-commerce websites require low operational costs. In addition, it is an effective procedure for finding products easily without wasting energy or time, therefore, it is the fastest buying and selling procedure.
Also, there are no time limitations related to these E-commerce websites. In spite of the fact that these websites provide so many advantages, some marketers still make e-commerce mistakes. In today's world there is no room for any mistakes, therefore, listed below are some of the most common e-commerce mistakes you should avoid in order to increase your customer experience and the sales.
No Price Sorting Feature
Some E-commerce websites lack price sorting features which cause customers unable to know if the products they are purchasing fit their budget range. Price sorting or filtering features are important for price-conscious customers because they get to see the price-relevant products and usually chose products under their budget. The price sorting feature helps the customers to choose the product within their desired range of budget.
Therefore, adding a price sorting feature is a great idea because it helps your customers to purchase products depending on their budget and at the same time the price sorting feature helps them to keep track of their budget and their spending.
Complex Checkout
For an average buyer, the number one priority is online shopping that is more convenient and comparatively easier and faster than buying in person. Therefore, an E-commerce online website with a complicated checkout process is a major mistake. You should improve your customer's experience by providing an easy checkout process such as incorporating the one-click buy technology to your E-commerce website.
In order to become the number one choice for your consumers, the most important thing is to provide them a platform for online shopping that is fast, easy, and simple.
Lack of Product Available Listings
Usually, the lack of listing availability of the products has some really bad outcomes. Customers usually choose the products and when finally, they hit the checkout page they end up getting a heartbreak when they get to know that some product is out of stock. Therefore, in order to prevent breaking your customer's heart, it is better to incorporate the product available listings into your E-commerce site. The product available listings can easily inform your customers about the products they want. Also, this feature can effectively inform the customers about the quantity of the products available. This stock available listings effectively increase the conversion rates because it creates a sense of urgency.
No Trust Seals Display
Customers generally are nervous and frightened when they have to provide their credit card information to any website, therefore, they always look for trust seals. Adding trust seals to your website improves the trust and enhances the customer's loyalty. Trust seals can be added from various sources such as Norton Secure, VeriSign, GeoTrust, and much more. They effectively indicate that the website is perfectly secure and has no vulnerabilities. These services usually scan the website daily in order to check if the website Is well-protected and has no recent vulnerabilities. The trust seals enhance the visibility of your website. Also, you can increase the visibility of your website by taking some help from the social media company Dubai. These social media services Dubai have been proved to increase the traffic of the website.
Not Linking Directly to the Product Page
E-commerce sites generally sell thousands of products and sales, however, having so many pages on your site or showing only some of the specific products on the homepage is non-significant for your customers because it makes them unable to explore all of your products. However, linking directly to the product pages from the homepage can make it easier for the customer to find the products they want rather than just scrolling a long time.
About the Author: Junaid Ali Qureshi is a digital marketing specialist who has helped several businesses gain traffic, outperform competition and generate profitable leads. His current ventures include Elephantation, eLabelz, Smart Leads.ae, Progos Tech and eCig.